Structured Cabling for your Pittsburgh business
Preferred IT Solutions can create a neat and reliable network infrastructure for your voice and data connections. By creating a cable management system, you can best prepare for shifts in technology and user requirements.
High speed internet
Business phone systems
New and existing structure
Single wire, or full office building
Structured Cabling For All Business Applications
A typical structure cabling project in Pittsburgh runs voice and data cables through the walls or ceilings of your facility. This could be a building existing downtown, in Oakland or even a new building in Cranberry, Butler or The Strip District.
The cables connect to individual workstations at one end and terminate at patch panels in your server room and telephone closet – your choice. Projects can differ greatly, and we work with our customers to figure out the best solution for each project.
Preferred IT Solutions can create neat pathways and label cables so you can easily identify problems if they emerge. This is the key with structured cabling. You remove errors in maintenance and diagnosis by correctly handling those cables.
What are the parts of structured cabling?
Structured cabling can help your Pittsburgh business in many ways. By using 6 main parts to structured cabling, we can separate the process into smaller more modular pieces.
Telecommunications room (enclosures)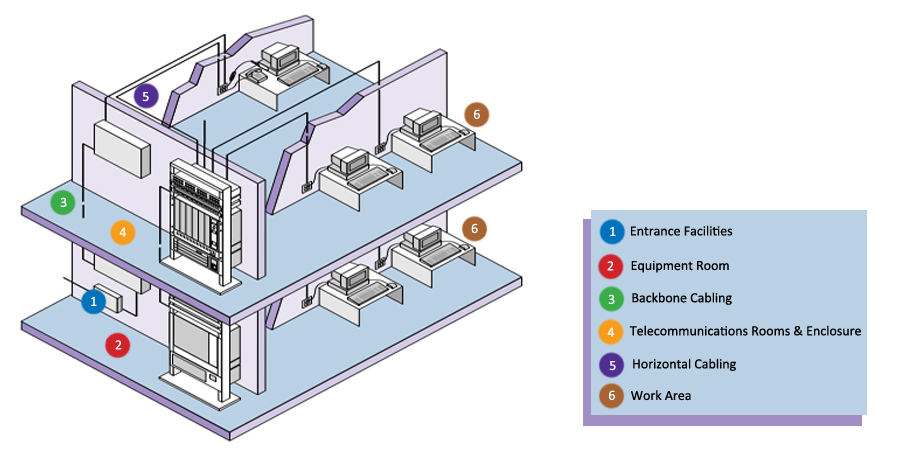 Ready for a cleaner business network?
Call us today for a free quote on your business network. Our skilled technicians take your Pittsburgh business needs seriously – and are waiting for your call today.