With the holidays coming up, we at Preferred IT Solutions want to be sure our customers are prepared for those days out of office. With that being said, one way to let your customers know you are out of the office is to set up an automatic reply email that responds for you!
The first step is to go into the file menu in Outlook. In the file menu, you can find many great features to help you in day to day work. In the file menu, Automatic Replies (Out of Office) will be the second option, directly under Account Settings.
Image of Automatic Replies option.
Once you are in the Automatic Replies menu, a window will open where you can set it to send automatic replies. It could be set to indefinitely send the replies if you are out of the office for an extended period of time, or just for a few days! After setting the time frame you want the reply to be sent, you can customize the message that will be sent in the reply. This message can be sent to both inside and outside of your business, however, it has to be set in both the inside and outside my organization pages within the Automatic Replies menu.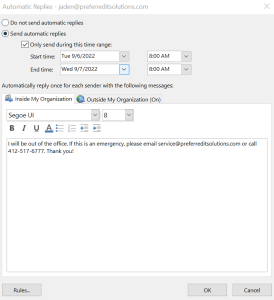 Image of Automatic Replies Menu
Once you have the time frame and message done, hit OK! The Automatic reply is set. Whether you have set it indefinitely or within a time frame, Outlook will do all the work for you and send the replies. No more getting emails when you are spending time with family, or just having a lazy day!