Did you know you can record your own voicemail greeting in 3CX? Instead of having the same boring voicemail as everyone else, 3CX lets you record your own. A very little amount of people know about this feature, and we at Preferred IT Solutions want you to take full advantage of your phone system.
Changing Voicemail Greetings in Desktop/Web Clients
The process for recording a new greeting in the web client and desktop app. These instructions cover the desktop app, web client, and even your desk phone. First, we need to record the new greeting. In 3CX, select the 3 dots in the bottom left corner and go to the settings. Once you are in the settings, you can record and change the voicemail in the Greetings tab.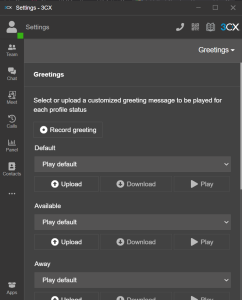 Greetings Settings in 3CX
The Greetings settings is where you can see all of the prompts that will play depending on the status of your extension. Each status can be set to play a different voicemail prompt, or they can all play the same prompt if you like.
To record the greeting, select Record Greeting. It will then ask you to name the greeting. For this example, we will name it testgreeting. 3CX will then call with a call named RecordFile. Go ahead and answer this and follow the prompts to record the message. Once the message is saved, the audio file will show up in the drop-down menu for each status setting.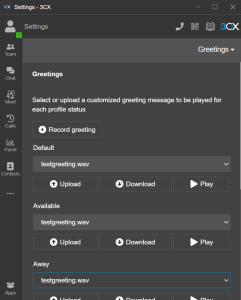 Updated Voicemail Prompts
Changing Voicemail Greetings on Desk Phone
Now, if you are using a physical desk phone, the process is a bit different. Since it is a physical phone, there is no online interface to access.
To change the voicemail on your deskphone, dial into your voicemail by using 999. If your voicemail has a PIN on it, it will prompt you for the PIN. If you do not know your pin, call our office and we can assist you in changing it or disabling it. After inputting your pin, press #.
Once you have accessed your voicemail, the menu option for listening to the menu options is 9. This will take you to another menu, the next option is 8 for changing the greeting. In that menu, press 0 to record the new greeting. When you are done recording, press the # key to stop the recording. To save the prompt, press 0.
Now the voicemail greeting has been updated to the new recording!